Texas Trash & Treasures Reimagined Restoration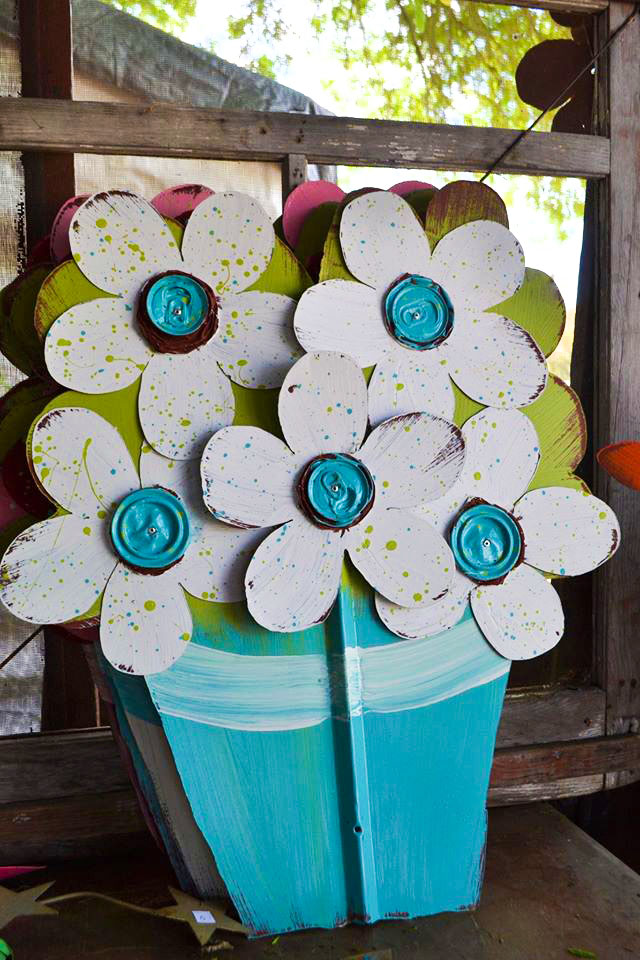 Linda and Richard Hamilton
Texas Trash & Treasures
Warrenton, Texas
423-502-1374
[email protected]
www.trash4sale.com
Years in the Creativity Biz: 25
Get their goods: Dillard's Yard during Spring and Fall Round Top Antiques Shows and at smaller shows through the year. Follow FB "Texas Trash and Treasures" for schedule.
Texas Trash & Treasures: The Road to Reimagined Restoration
Linda Hamilton succumbed to her metal art addiction in 1992.
"It's never been a hobby for me," Linda said. "It's been more like a disease. I've always had to make stuff. Then, when I discovered I could sell it, it became an addictive high."
Richard caught the bug two years later and quit his full-time. Together, they found the materials and used them to create all of the metal art that was—and is—the basis of their business, Texas Trash and Treasures. They took their work (and their two daughters who were homeschooled) on the road.
Their art, which is designed primarily for outdoor spaces, was struck a chord with people across the country, earning them the opportunity to sell everywhere from the Philadelphia Flower Show, America's largest, to wholesale venues such as the Dallas Market and tiny out-of-the-way flea markets.
"We raised our family through art and the power of our own hands," Linda said. "Creative entrepreneurship has given us a funny, amazing whirlwind life."
The emotions are as authentic as materials from which the couple works. Linda recalled the adrenaline rush of show openings when customers flooded their booth, keeping all four family members and two cash registers ringing. Then, there were the shows where people just glanced at the family and their art as they scurried by en route to other vendors.
"In this life, you experience the full range of emotions—mountain top highs and deep valley lows," Linda said. "Our art is whimsical, not serious. We have no illusions that we're changing the world, but then a customer will say, 'Every day before I go to work, I look at the bluebird of happiness I bought from you and know it is going to be a good day.' If what we do inspires someone to smile, then all of the sweat and uncertainty is worth it."
Name It:
We chose the name Texas Trash & Treasures early on to poke good-natured fun at our art. We were at a Junior League in Lafayette, Louisiana, and a well-coiffed, well-meaning woman looked down her nose and said, "If you'd change your name, you'd get more business. It's just not sophisticated enough."
It was sophisticated enough for us. And it's been fun to watch as recycling, repurposing and reimagining has caught on and now caught up to us. We've seen it come full circle.
Found Materials:
We work only in metal. Our work relies on 95 percent found materials. Let's be clear, found doesn't mean free. When we lived in Tennessee, we discovered tobacco barn tin, which is smooth instead of corrugated. About 70 percent of our work incorporates that tin. When we started it cost $3/sheet, now it costs $3/foot.
We find most of our materials by shopping the fields at Warrenton. We fill in the gaps with trips to the junkyard (it's not free either) and sometimes people bring us things they know we can use. We're not random. We know what we need and are very deliberate about getting it.
These days, we're using a lot of spades, rakes and other garden tools in a new series that we're working on.
Fan Favorites:
We use metal barrels to create "crown chandeliers." Miranda Lambert has one and the Junk Gypsies have featured them. There is always a waiting list.
People also line up to buy our "dew on the roses" table tops, which at $250 are one of our most expensive pieces. We cut the first line of the old gospel hymn, "In the Garden," into a metal table top and embellish it with metal roses. It's designed to hang in the garden. Invariably, people begin to sing: "I come to the garden alone, while the dew is still on the roses . . . ." and then they come up to us with tears in their eyes and a story about their grandmother or great aunt or someone else significant in their lives.
Inspiration:
Richard and I will know it's time to stop when God stops giving us ideas.
I don't sit around and try to think of things, it's just there. Take the "dew on the roses" table tops that are so popular. I saw an old metal table standing in a field and it caught my eye. For some reason, I heard that hymn in my head. I told Richard, "What would happen if we reconfigured the table top to hang on the wall and cut some words into it?"
We're squarely in this world. There has to be some Divinity in it. Otherwise, how could we have survived in this business and raised our family if it wasn't for Divinity? It's been a very interesting, humbling journey.
Advice for Round Top First-timers:
Have a shopping list or not: It's helpful to know what you're looking for, but it's more important to be open to your muse, so you can see the possibilities.
Breathe…and Come Back: It can be overwhelming the first time you're here. Just breathe. Get a lay of the land. Get ready to come back. It's gets a lot less intimidating on the second or third trip.
Explore the Back Roads: Peak show traffic can be daunting. There are back roads that can get you where you need to be if you'll get a map and plan your route ahead of time.