Perspectives change when people see their hometowns in their rearview mirrors.
"When I was growing up in Carmine, I thought it was just okay because it wasn't always cool or comfortable to have everyone knowing everything about me," said Taylor Jacob, a Carmine native and one of the nation's top professional barrel racers. "Now that I've gone out in the world, it's where I want to be. I love coming home where people are genuinely happy to see me. It's a good feeling to have roots and really belong to a place."
Her roots are deep and wide in the Round Top-Carmine area. Her parents, Robyn and Lane Jacob, who own Carmine Feed and Fertilizer, live in Carmine as does her brother Tanner and his wife Brittany as well her paternal grandparents Jerry and Barbara Jacob. Her maternal grandparents, Bonnie and Bob Dube, live in Round Top, and her younger brother Tucker is not too far away at Texas A&M University. Aunts, uncles, cousins, including former professional calf roper Justin Maass, who qualified for the Wrangler National Finals Rodeo eight times and earned more than $1 million in his career, and former professional barrel racers Tammy Dube Fischer and Jackie Dube Jatzlau claim Giddings and its environs as home.
"When I was a kid, my cousins were rodeoing hard professionally," Jacob said. "I wanted to be just like them. I've always viewed their accomplishments as inspiration not competition."
Today, she has her own "farm team" made up of three younger cousins: Kylan, Lainey and Quinn. They're watching from the sidelines and supporting their "Tay-Tay" as they dream of professional rodeo careers of their own.
"When I'm working down at the barn, they let me know they're outside," Jacob said. "They'll make noise until I come down the hill for a visit. When I left for the National Finals this year, they painted good luck signs for me. I'm blessed to have a big fan club of family and friends."
[pullquote width="300″ float="left"]"Winning keeps me going. After I've driven thousands of miles and put in the long hours of preparation, there's a lot of satisfaction when 13 seconds comes together in a flash that feels like greatness."[/pullquote]
Jacob, who finished seventh in world standings in 2015, competes in 50 to 80 rodeos each year as she pursues the coveted and highly competitive title of World Champion. In 2015, she racked up 80,000 miles on her pickup chasing the prize money that not only provides her livelihood but is the basis of the sport's rankings. When she's on the road, the living quarters in her horse trailer is what Jacob calls home. Her typical day centers on three activities: driving, sleeping and taking care of Bo, her buckskin gelding and primary barrel horse.
"I love professional rodeo and the rush of competition, but life on the road isn't necessarily glamorous," Jacob said. "Winning keeps me going. After I've driven thousands of miles and put in the long hours of preparation, there's a lot of satisfaction when 13 seconds comes together in a flash that feels like greatness."
From a Carnival Pony to the Big Time
Jacob can't remember a time when riding a horse wasn't part of who she is and what she does. According to family lore, Jacob got her first horse when she was four years old compliments of her Granny Dube, who was living in Oklahoma at the time.
"We went to a carnival, and Granny bought a horse from the pony ride," Jacob said. "She hauled the pony all the way to Texas for me, so not riding wasn't really an option. From that point on, I was always on a horse."
As she got older, she grew to appreciate the huge, moss-draped live oaks that dotted her maternal grandparents' property near Round Top where she often rode. The trees not only provided cooling shade on hot summer afternoons, but the moss was nature's cushion.
"I'd pick moss off those trees and put it under my butt for a cushion because it hurt from riding so long," Jacob said. "I'd ride so long I'd fall asleep in the saddle. My family has tons of pictures of me sleeping on a horse while somebody led it around."
Jacob was about five when she started participating in youth rodeos. With time and practice, she became a multiple threat competing in goat tying, breakaway roping, pole bending and barrel racing.
[pullquote width="300″ float="left"]"The advantage of a small town and a small school is that people want you to do it all—and they're willing to help you get it all done,"[/pullquote]
During junior high and high school, Jacob crisscrossed the state pursuing her goals in rodeo. Her commitment to the sport didn't prevent her from taking full advantage of the benefits offered by attending a small school such as Round Top-Carmine. In high school, she also played volleyball, basketball and was active in FFA.
"Between rodeo and school activities, there weren't always enough hours in the day," Jacob said. "The adults in my life—the school administrators, teachers, coaches and my parents—worked together, so I could do everything I wanted to do."
For instance, she got permission to leave school at lunch to go home and ride. Her mother would have her horse saddled and lunch cooked, so Jacob could squeeze in a practice and a quick bite before returning to school for class and athletics practice.
"The advantage of a small town and a small school is that people want you to do it all—and they're willing to help you get it all done," Jacob said.
Her success in high school paved the way for her to attend Texas A&M University. The transition from the Round Top-Carmine Class of 2009 with 17 students to the fighting Texas Aggie Class of 2013 on a sprawling campus with more than 50,000 students wasn't seamless.
"Instead of gaining the freshman 15 [pounds], I lost the freshman 15," Jacob said. "It wasn't easy to transition from being a big fish in a small pond to being one little fish in an ocean with thousands. By the second semester, though, I knew it was the place where I needed to be, and I was happy to be part of the Aggie family."
As a collegiate rodeo athlete, Jacob was able to work on two goals simultaneously: earning a degree in communications with a double minor in business and sports management and taking her rodeo career to the next level. She traveled across the country with her fellow Aggies competing in breakaway roping, goat tying and barrel racing—and further refining her multi-tasking skills.
"A lot of rodeo is riding in a truck to and from a show," Jacob said. "I learned back in high school to get my business done en route. In college, I used to sit in the stands with my computer doing homework before a rodeo started. When you have a goal, you do what you need to do when you need to do it.
Bo Knows…Barrels
In 2012, Jacob left the collegiate ranks and began competing in amateur rodeos throughout Texas. She was still a student at Texas A&M, but amateur rodeos are the route to a professional career. Jacob considered herself a breakaway calf roper who also ran barrels.
"At the time, I didn't have a barrel horse that was professional caliber," she said.
Then in 2013, Bo, whose registered name is Honor Thy Frenchman, came into her life. She tried five horses from a single barn, including Bo, and chose a different horse. The purchase fell through. The barn owner knew Jacob desperately needed a good mount, so she sent Bo back to Jacob urging her to give him another try.
"I rode him twice and told my mom, 'He's got it,'" Jacob said. "He had a cool move around the barrels that set him apart from all the others. It was just meant to be."
And while Bo is a world-class athlete, Jacob noted he can also be a world-class "pain in the butt."
"He's got his quirks," Jacob said. "Some days he's chill. Other days he 'gets on one' and is almost uncontrollable until he works himself out of that mood. I've learned to sit back and let him find himself because the more I mess with him the more agitated he becomes."
The ability to read and respond to one another is one reason they've become such a successful team.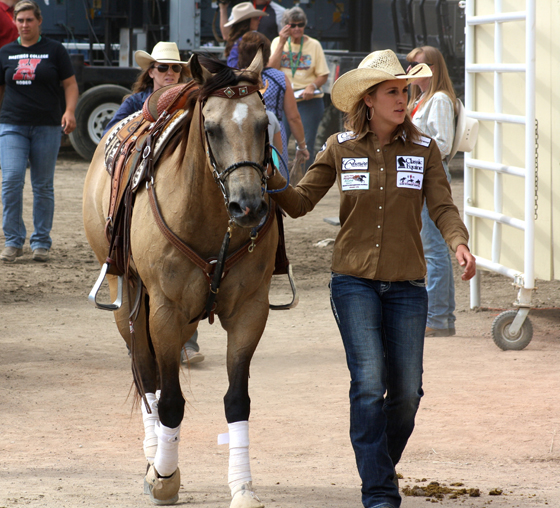 "At this point, we know how to push each other's buttons," Jacob said. "He knows what he can get away with and what he can't with me. I know how to read his moods and handle them. This level of understanding comes from spending a lot of time together—I can't tell you how many hours I've spent on his back and in his stall."
Despite his changeable temperament, Jacob considers Bo a blessing.
"He is the reason I have this life—and he's the reason I am who I am right now," Jacob said. "If we hadn't found Bo when we did, I would have a 9 to 5 job and be watching professional rodeo as a spectator."
Bo's athleticism and ability to get the job done consistently have taken Jacob far beyond Fayette County.
In 2013, her first year as a card-carrying member of the Women's Professional Rodeo Association, he took her to Las Vegas to the Wrangler National Finals Rodeo held in mid-December. Only the top 15 contestants based on that year's earnings are invited to compete. Her college graduation was scheduled during the same time period.
"I was named 'Rookie of the Year' and was the first rookie in a decade to qualify for the Finals," Jacob said. "I told A&M to mail me my diploma because I'd be in Vegas trying to earn some prize money."
History confirmed her choice. During that chaotic 10-day period, Jacob won four go-rounds and set a new arena record of 13.37 seconds.
"Setting the arena record at the National Finals is my greatest accomplishment so far," Jacob said. "It was a 'silent goal' for me, one of those things I hoped to accomplish but didn't say out loud because I didn't want people to dismiss it."
With career earnings of about $410,000 and two NFR qualifications in just three years, no one dismisses Jacob or her competitive spirit. She is hitting the road again in 2016. Her long-term goal? Bringing a World Barrel Racing Championship back to Carmine—and one day telling her children and grandchildren about it.
"We're going to smile at the rush of it all," she said. 
The Slack with Taylor Jacob
When rodeos have too many contestants to compete in the time allotted for the performances, the organizers run the overflow in off-times known as "slack." I had more questions for Taylor than there was room in the story, so enjoy the slack . . ..
RTR: Do any rodeo announcers ever pronounce Carmine correctly?
TJ: Only Boyd Pohlhamus (a 20-time NFR announcer). He owns a place near Burton and buys fertilizer from my parents, so he knows how to say Carmine like a native. Everybody else pronounces it like an Italian name.
RTR: What is your favorite thing about coming home?
TJ: Home-cooked meals, especially my dad's chicken-friend venison, and long, uninterrupted showers with plenty of hot water. My family just lets me soak.
RTR: What's your best homecoming memory?
TJ: When I came back from the NFR in 2013, people had hung signs all over town welcoming me home. It struck me then how important it is to have deep roots.
RTR: How do you stay in shape on the road?
TJ: Carrying hay, lifting water buckets, cleaning stalls and riding Bo—just regular daily stuff. Physical activity is the life we live.
RTR: As a professional athlete with a background in communications and business, do you take an active role in managing your career?
TJ: From the beginning, I designated communications as my primary degree and took additional business classes. If I had to do it all again, I think I'd major in business and minor in communications. In my career, I get to work with outstanding sponsors such as Classic Equine, Elgin Veterinary Hospital, Rock and Roll Cowgirl, Platinum Performance Supplements, Safe-Guard, Nutrena Feeds and of course our family-owned feed store, Carmine Feed and Fertilizer. They all help make my professional journey possible.
Right now I'm trying to be smart with my money. I reinvest it in the business of horses when I can with the goal of having great horses like Bo to ride or sell.
RTR: Are you developing a horse as a backup for Bo?
TJ: Yes. I've got a six-year-old mare named Madonna who belongs to Rick and Dawn Ringstaff. She and Bo love being around each other. They act like boyfriend and girlfriend. I plan on taking her on the road in 2016, running her in a few places where I know she'll be successful, and just letting her get used to life on the circuit. It takes a lot of time and preparation to get a horse ready to turn three barrels regardless of what's going on around her.
RTR: Who's your favorite traveling companion?
TJ: I try to take Mom with me as much as I can. She drives. She knows how to take care of Bo. She can make chicken salad, baked potato soup and even pot roast in the front of the trailer. She knows what I need to be in my best place mentally.
RTR: How do you stay focused?
TJ: I don't ever let myself get too high or too low. I might've been great today, but I'm not always going to be great. I might've been bad today, but tomorrow is a fresh start. I have a 15-minute rule, particularly after a bad run. I have 15 minutes to analyze the run and then I let it go. Tomorrow offers a brand new chance to turn three barrels and earn some prize money.
[line]
by Lorie Woodward Cantu
Join Our Newsletter List
If you liked this article, be sure to subscribe to our e-newsletter so that you don't miss future ones.