The dance hall culture is alive and well around Round Top. Smoke still pours from barbecue pits, music wafts through open windows and crowds of all ages still gather for special events at places such as the Round Top Rifle Hall (Round Top Schuetzen Verein), the Round Top Dancehall, La Bahia Turn Verein and Carmine Hall (Cedar Creek Schuetzen Verein). No trip through this part of the world is complete without a stop at one of these historic gathering places because music, food, family and friends have been part of the region's fabric since its settling.
Deb Fleming, president of Texas Dance Hall Preservation, Inc., explained, "When immigrants came through Indianola and Galveston, many followed the river systems north to ensure they had easier portages and water to drink.
"This area stretching from Galveston to Temple on the north and San Antonio/Austin on the west was relatively close. The land was fertile and could be cultivated. There were trees to provide building materials. People settled in closer proximity to each other in the eastern areas than they did farther west and north where it took more land to sustain a family and growing communities.
"In the days of horse and foot travel, traversing several miles made for a daylong trip. Communities and dance halls were often located within a one day ride of one another. In the eastern part of Texas, where population was relatively dense, the concentration of dance halls was relatively high. This is the case in places such as Austin and Fayette counties in particular. At one time, Fayette County had 73 halls of which 32 are now gone."
So while we enjoy what some might deem an embarrassment of riches when it comes to dance halls, these treasures can't be taken for granted. Changing demographics, shifting musical tastes and a rapidly urbanizing Texas are all real threats to their survival.
"Unfortunately, many people are not aware that our dance hall culture is in danger of disappearing," Fleming said. "We must raise awareness of the halls' pivotal roles in our communities and therefore the history of Texas. Once a dance halls is gone, it's generally gone for good."
Fleming, her experts—and we—wholeheartedly agree the best way to save these valuable pieces of living history is one two-step at a time. Go! Enjoy!
[line]
Deb Fleming traces her passion for historic Texas dance halls to meandering Sunday drives in the country around San Antonio with her family in the 1950s and 60s.
"I've always loved a good road trip," said Fleming, who claims a lower middle class upbringing.  "Growing up in San Antonio, my folks took us on long drives through the country to show us how 'real poor people lived.' He'd point out the shanties on the back roads in answer to our childhood complaints of 'How come we can't . . . or how come we don't have . . ..' Along the way though, we'd stop and meet people—and learn about life in their communities."
Even as a child, she was drawn to small town and country life.
"At heart I'm a small town country girl, but my mother had a different idea," Fleming, who now lives on the outskirts of Austin, said. "My mother came from the country—she picked cotton in rural Mississippi—and eventually made her way to Baltimore where she earned scholarships and a nursing degree from Johns Hopkins. She wanted something different and better for her three children."
As a result, Fleming got a city upbringing with a rural flavor. She's a fifth-generation Texan and San Antonian. Her ancestry reflects the melting pot that is Texas and gave her a taste of two worlds. Her mother's heritage was Scotch-Irish and English while her father's people were Polish and German.
"As a family we didn't go dancing, but we did go to Polish and German weddings and funerals with my dad," Fleming said. "Some were three-day events with plenty of food, dancing and beer drinking. Anytime we were going to a wedding, my mother would always tell my dad, 'Just make sure the kids get home okay.'"
By 2005 Fleming had traded in her high-pressure corporate insurance career for a free-wheeling job in the music industry that included managing tours and the general business for artists such Austin-based blues piano player Marcia Ball and her band. Initially, Fleming got into the music business as the majority owner of a large live music venue. Fleming's partner in the business had a passion for dance halls—and it was contagious.
[pullquote width="300″ float="left"]"These community-centered dance halls give each one of us a time and a place. They tell us who we are as individuals—and as a society and as Texans. If we lose them, we lose a clear indicator of who we are."[/pullquote]
Fleming had the bug, but she got infected with "dance hall fever" when her then 85-year-old father made an off-hand remark as she was preparing to go to the annual Fall Festival in Panna Maria, a small town about 50 miles southeast of San Antonio.
He said, "You know, your grandmother spent time in Panna Maria as a young girl."
His comment had nothing to do with dance halls, but it piqued Fleming's curiosity about her ancestral roots in Texas. When she arrived in Panna Maria, the oldest Polish community in U.S., she saw the Catholic church, the store, an old school and the dance hall that make up the tiny town.
While enjoying the turkey dinner and the local folks' company, Fleming encountered the resident genealogists.  When she told them her father's story they entered the names, and Fleming's ancestors were revealed in much more detail than she or her father ever dreamed.
"Come to find out, my great, great grandfather Johann Rzeppa was among the small group of original settlers of Panna Maria in 1854," she said. He, his wife and child came from Silesia, Poland to Galveston and walked to Indianola, San Antonio and then Panna Maria.
"They showed me a book of the original settlers and my family's lineage back to Poland," she said.
The book included a photo and short article about the Christ figure for the crucifix her ancestor brought with him from Poland; the Christ figure still hangs on the crucifix outside the church in Panna Maria today. She also learned that two years later he commissioned a bell to be made in Poland; the bell still hangs in the church bell tower and still signals the Mass. In addition, her hosts took her to the museum housed in the old school where they showed her the original ship's manifest listing her family's names.
The discovery changed her life and ignited her passion for the history of Texas communities, many of which centered on dance halls.
"If I hadn't gone, I would've never known," she said. "If you're a multi-generational Texan whose ancestors arrived from Germany, Poland or Czechoslovakia between the mid-1800s and the early1900s, chances are you're connected to a town that once had or still has a historic dance hall.
"These community-centered dance halls give each one of us a time and a place. They tell us who we are as individuals—and as a society and as Texans. If we lose them, we lose a clear indicator of who we are."
[line]
The Brass Tacks of Texas Dance Hall Preservation
On the day we visited, Deb Fleming was organizing a multi-week gig in Hawaii for Marcia Ball and Johnny Nicholas and Hellbent. Between saving dance halls and wrangling musicians, she's a busy, busy woman. We quickly got down to the brass tacks of Texas Dance Hall Preservation, Inc.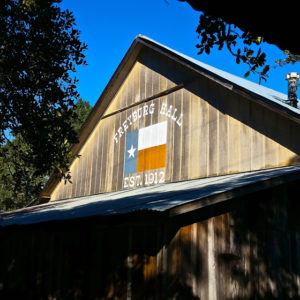 RTR: What makes historic Texas dance halls special?
DF: When you walk in a Texas dance hall, it's unlike any other place in the entire world. They're part of our culture, part of our psyche and part of our state's identity. People all over the world are intrigued and drawn to our Texas halls and our Texas music and dancing. Historic dance halls are just the pure essence of Texas.
For me, it's all about the building, the floor, the people and the music. They blend together to create a one-of-a-kind experience. Each hall has its own character and personality that can't be replicated even though they share common elements such as big wooden floors, high ceilings, breeze-catching windows and generations of families celebrating life to the sound track of live music.
RTR: What is Texas Dance Hall Preservation Inc.?
DF: TDHP is a small volunteer organization with a big passion. We recognize that historic dance halls serve as the heart of communities across Texas and define our culture as a state. We want to help keep that legacy alive.
RTR: What prompted its creation?
DF: Passion. TDHP was created by a small group of dance hall enthusiasts and preservation-minded individuals who lived primarily in Houston and Austin. The founders saw that a piece of our heritage was in danger of slipping through our fingers, so in 2007 they organized and obtained an IRS 501(c)3 non-profit designation.
Today, our board of directors is more diverse than ever. As attorneys, CPAs, architects, event promoters, preservationists, historians and business people, they bring a wide skill set to the table that is an important resource.
RTR: What is its mission?
DF: We exist to preserve historic dance halls and the music and culture found in them.
RTR: What are TDHP's strategies for accomplishing its mission?
DF: Our first goal is raising public awareness of the importance of historic dance halls and bringing their current plight to light. We're carrying the conversation about their preservation into the public space through media outreach such as this and through educational outreach with presentations to interested groups. There are a lot more dance halls than just Luckenbach. We've gotten some recent national and international attention with stories by CBS News and National Geographic. Every story helps spread the word.
When you stake a claim in the public conversation, you have to know what you're talking about, so we're also dedicated to gathering, organizing and analyzing the most accurate information available on historic dance halls.

DF: We need to update our database of existing dance halls, which includes more than 500 (some gone and others standing). The original was created over time, but it hasn't been updated since 2014. Things change: owners change or retire, roofs cave in, public halls become private or run out of money to operate, dance halls are converted to retail spaces, etc. Our goal is to work with public history programs and local historical groups who can put their boots on the ground and provide the most current and accurate information, so we can validate our information. The starting point for this is creating a "tool kit" that guides standardized data collection. Texans need to know what we have.
We're also positioning TDHP to be a clearinghouse for hall owners whether they're a family, a small business or a community organization. Our board of directors is a great source of information on everything from promoting events to meeting the stringent requirements of historic preservation and earning federal and state tax credits. Owning and running a hall is a full-time running a hall is a full-time job, so if we can save the owners time and energy by providing answers and being more of an active resource. We want to do it.
Finally, we have embarked on a more concerted effort to raise funds to deliver matching preservation grants to qualifying halls. TDHP has never been a "deep pocket" organization. While public awareness is the first step to saving these halls, it comes down to having the money to do what needs to be done. Our Preservation Fund was initiated in late 2015, and we hope to build on that start in 2016 and beyond.
RTR: Why is it important these resources exist?
DF: The database allows us—and all Texans—to know what we have and what is at stake. You can't preserve something if you don't know it exists. Plus, knowing the status of the individual halls will allow us to prioritize our funding efforts when the fund becomes available. As good stewards, we will have to decide whether it is better to invest in a functioning hall or whether it's in our best interest to simply conserve a structure that is at great risk.
Creating a clearinghouse of information and expertise keeps hall owners from having to reinvent the wheel. It takes a lot of knowledge and creativity to keep these halls maintained and functioning. While the halls are different, the challenges are often the same: roofs, wiring, plumbing and event planning and promotion. Owners can benefit from shared experiences.
For instance, I recently got a call from the owners of the Pioneer Hall in Anson. They were looking for money to repair the hall's roof. While TDHP couldn't provide funding, I was able to connect them with the owners of the Twin Sisters Hall in Blanco who recently held an fundraising event that earned $12,000 toward the cost of a new roof.
The Preservation Fund is where the rubber meets the road. Almost without exception, every historic hall struggles with the cost of maintenance and repair. Communities can't keep the hall doors open if the roof caves in.
 RTR: What's the best hope for historic Texas dance halls?
DF: Passionate young people who think outside the box. In many cases, the current generation of hall owners and operators are in their 60s, 70s and 80s. Their clientele is creeping up in age, too. If these halls are going to survive, they have to be embraced by the younger generations.
It's happening—and it's exciting. There's the young woman in Columbus who has transformed Schneider Hall, which has been owned by her family for several generations, into a wedding venue. A group of young couples from Ganado who are in their 30s and 40s have banded together to save their beloved Ganado KJT Hall. Twin Sisters Hall continues to encourage younger members to join their organization.
We need the next generations to love and respect these old halls the way their predecessors did in order for the halls to remain a vibrant part of our landscape.
RTR: What do we lose if we lose historic Texas dance halls?
DF: If we lose Texas dance halls, we lose the heart and soul of Texas communities. These halls are our touchstones, our center points. Some buildings such as the Alamo and the other missions sit in hallowed places of honor within our state; our historic dance halls occupy the same places of honor within our communities. Every time we lose a dance hall, we lose a piece of Texas that can't be replaced.
[line]
by Lorie Woodward Cantu
Join Our Newsletter List
If you liked this article, be sure to subscribe to our e-newsletter so that you don't miss future ones.